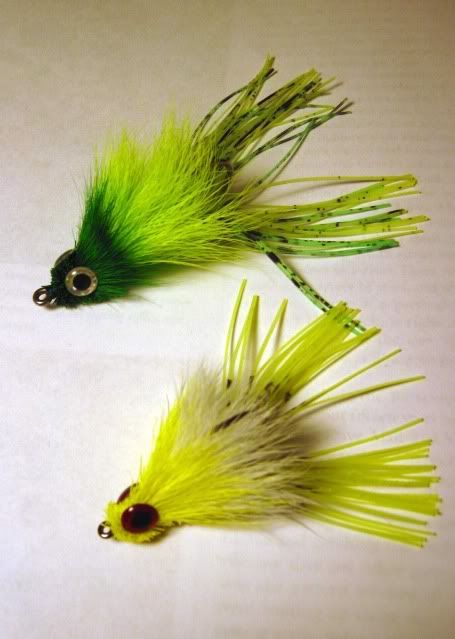 So, we've been doing a lot of bass fishing lately and what does one think of when they think bass habitat? Vegetation and weeds! Bass like to chill out in thick cover and this can be quite a challenge for us fly anglers to make a good presentation without yarding in 80 pounds of crap attached to the hook. In my younger days of conventional bass fishing, a great lure to throw into this so-called "danger zone" that bass hide in was the Snag-Proof frog. As you can see below this baby can ride on top of the mossy mats without hooking up, but as soon as a hungry bass nails it, they are met with two, nice big pointy surprises.
So, one day KD decided to apply the same principle's of the Snag-Proof from to a fly and voila! Here are a couple of my KDM rats: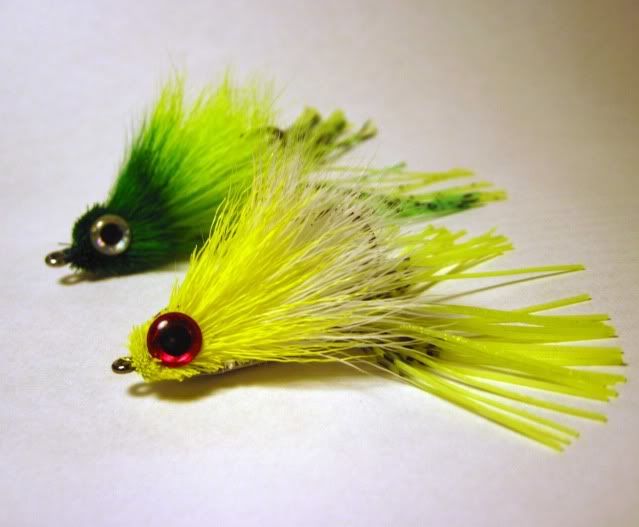 The bottom is made with sticky back lead and UV epoxy. I believe the reasoning for the lead is so the fly lands the right way up when casted. The epoxy on top allows the fly to slide safely (until big momma bass hits it!) across the mats.
I test drove them somewhat today. No takes, but I did learn a few things I want to tweak on them. I can't wait to get one to hammer this thing! But I did manage to still get a solid handful to take: