Who says that football trout only come from the Kern. Yesterday, Jesse Anderson and I went out to the Lower Stan and proved that this is not true. Check out this beauty!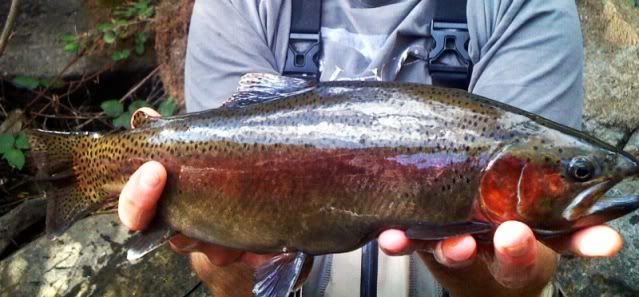 Yet only around 15" long, this bow had a girth on em'. So the day started, arriving around 8 or so and seeing no vehicles at the roadside parking. Crazy indeed! I had fully expected the Bay Area folk to be in full effect as they had been since the opener. Maybe it was the rain and the muddy waters that deterred them, but whatever it was, keep it up. Anyway, we started in the money hole below the dam and even with the water conditions, we were catching fish. The night before I had purchased a new Sage Launch #5 and my first fish on it was a near 17" beautiful bow. Ill post a picture of em' when I get the images from Jesse. Not a bad way to break-in a new rod. So we fished there, landing around 6/7 fish combined and cataloged them (check out my
post about the cataloging
). We then hit up the top pool which is really hard to fish due to the dam overspray and had a few takes with Jesse landing one.
With about an hour or so left before we had to get back to town, Jesse took me to a new spot. This was a very frustrating but rewarding spot in the end. I probably had on atleast 5 solid fish on but due to lack of area to let the fish run, the rocks or rapids took them from me one by one. Each time my flies poping out and ending up in the tree behind me. SOB! Jesse tried the pocket and bam after a few drifts, fish on. But to his luck too, the rocks had there way. A few casts later, that same fish was on again. By looking at the fish you can just tell it was the same one. How many fish look like a football come out of the Stan. This time the fish was on and I grabbed the net and thankfully as the fly was poping off, I had the net right there and the fish was landed. After logging the fish, Jesse released it and heres where the trip gets crazy. He cleans up and I decide to get a few more rolls in. As he watches, he saw a rise about 3/4 ft out. I make a drift there and wammo. Fish on, landed it and as soon as it was out of the water, we knew it was the football fish. An unbelievable story that really did just happen.
All in all, this day of fishing at the Stan was one of the best I've had there. Each fish of excellent qualty, tons of research done, and got to really put the new rod to the test. Not a bad January I'd say! Happy Tying! D